New eye gene therapy close to clinical...
New eye gene therapy close to clinical testing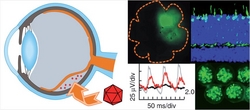 Prof. Dr. Mathias Seeliger has been specifically working on congenital retinal diseases for more than 15 years. Seeliger is an engineer, medical doctor and head of the ocular neurodegeneration research group at the Institute of Ophthalmic Research at the University of Tübingen. Amongst other things, Seeliger's work involves congenital retinal diseases. Patients with congenital retinal diseases exhibit modifications in the genes that are responsible for the proper function of the retinal cells.
Most of these modifications are point mutations which, depending on where they occur in the DNA strand, may lead to the complete termination of protein synthesis, a lower than normal expression of the relevant protein in the cell or the production of a faulty 'disturbing' protein. All this affects retinal vision and results in a number of serious eye diseases.
Read the whole story under on the website of bio-pro.de (in German)