Zrenner Lab
Pathophysiology of Vision
Ditta Zobor
Surname
Zobor
First name
Ditta
Nationality
Hungarian
Present position and title
MD, FEBO
Specialist in Ophthalmology
Business address
Institute of Ophthalmic Research
Centre for Ophthalmology,
University of Tübingen
Elfriede-Aulhorn-Straße 7
72076 Tübingen
Germany
Phone: +49 (0)7071 29-80733
Fax: +49 (0)7071 29-5361
E-mail: ditta.zobor[at]med.uni-tuebingen.de
Academic Education
| Year | Degree | University | Field of study |
| --- | --- | --- | --- |
| 2010 | FEBO (fellow of the European Board of Ophthalmology) | European Board of Ophthalmology | Ophthalmology |
| 2010 | Specialization | University of Tübingen | Ophthalmology |
| 2004 | MD | Semmelweis University Budapest, Hungary | Human Medicine |
Professional Experience
| Period | Institution | Position | Discipline |
| --- | --- | --- | --- |
| Since 03/2011 | University of Tübingen, Institute of Ophthalmic Research | Specialist in Ophthalmology | Ophthalmology |
| 07/2010-02/2011 | Neuhann Private Practice in Munich, Germany | Specialist in Ophthalmology | Ophthalmology |
| 09/2005-06/2010 | University of Tübingen, University Eye Hospital Tübingen | Research fellow and resident | Ophthalmology |
| 10/2004-11/2006 | University Eye Clinic Budapest, Semmelweis University, Budapest, Hungary | Resident in Ophthalmology | Ophthalmology |
Additional information
| | |
| --- | --- |
| 2010-2011 | Speaker of the Centre for Rare Eye Diseases Tübingen |
| 2010 | Fellow of the European Board of Ophthalmology (FEBO),DOG (Deutsche Ophthalmologische Gesellschaft) award for excellent exam |
| Since 2006 | several travel grants from the ARVO and ISCEV Committes |
| 2004 | Dr.med. (summa cum laude) Semmelweis University, Budapest, Hungary |
| 2003 | Scholarship of the Ministry of Education, Republic of Hungary |
| 2002 | Leonardo and Erasmus Scholarships, research work in the Histology Lab of the University Eye Clinic Freiburg, Germany |
Major Publications
Kitiratschky VB, Nagy D, Zabel T, Zrenner E, Wissinger B, Kohl S, Jägle H. Cone and cone-rod dystrophy segregating in the same pedigree due to the same novel CRX gene mutation. Br J Ophthalmol. 2008 Aug;92(8):1086-91. PubMed PMID: 18653602.
Nagy D, Schönfisch B, Zrenner E, Jägle H. Long-term follow-up of retinitis pigmentosa patients with multifocal electroretinography. Invest Ophthalmol Vis Sci. 2008 Oct;49(10):4664-71. Epub 2008 Jun 19. PubMed PMID: 18566474.
Becirovic E, Ebermann I, Nagy D, Zrenner E, Seeliger MW, Bolz HJ. Usher syndrome type 1 due to missense mutations on both CDH23 alleles: investigation of mRNA splicing. Hum Mutat. 2008 Mar;29(3):452. PubMed PMID: 18273900.
Zobor D, Zrenner E. [Retinitis pigmentosa - a review. Pathogenesis, guidelines for diagnostics and perspectives]. Ophthalmologe. 2012 May;109(5):501-14;quiz 515. German. PubMed PMID: 22581051.
Wissinger B, Schaich S, Baumann B, Bonin M, Jägle H, Friedburg C, Varsányi B, Hoyng CB, Dollfus H, Heckenlively JR, Rosenberg T, Rudolph G, Kellner U, Salati R, Plomp A, De Baere E, Andrassi-Darida M, Sauer A, Wolf C, Zobor D, Bernd A, Leroy BP, Enyedi P, Cremers FP, Lorenz B, Zrenner E, Kohl S. Large deletions of the KCNV2 gene are common in patients with cone dystrophy with supernormal rod response. Hum Mutat. 2011 Dec;32(12):1398-406. doi: 10.1002/humu.21580. Epub 2011 Sep 12. PubMed PMID: 21882291.
Zobor D, Kaufmann DH, Weckerle P, Sauer A, Wissinger B, Wilhelm H, Kohl S. Cone-rod dystrophy associated with amelogenesis imperfecta in a child with neurofibromatosis type 1. Ophthalmic Genet. 2012 Mar;33(1):34-8. Epub 2011 Jul 5. PubMed PMID: 21728811.
Jägle H, Zobor D, Brauns T. Accommodation limits induced optical defocus in defocus experiments. Doc Ophthalmol. 2010 Oct;121(2):103-9. Epub 2010 Jun 11. PubMed PMID: 20544259.
Perrault I, Estrada-Cuzcano A, Lopez I, Kohl S, Li S, Testa F, Zekveld-VroonR, Wang X, Pomares E, Andorf J, Aboussair N, Banfi S, Delphin N, den HollanderAI, Edelson C, Florijn R, Jean-Pierre M, Leowski C, Megarbane A, Villanueva C,Flores B, Munnich A, Ren H, Zobor D, Bergen A, Chen R, Cremers FP,Gonzalez-Duarte R, Koenekoop RK, Simonelli F, Stone E, Wissinger B, Zhang Q,Kaplan J, Rozet JM. Union Makes Strength: A Worldwide Collaborative Genetic andClinical Study to Provide a Comprehensive Survey of RD3 Mutations and Delineatethe Associated Phenotype. PLoS One. 2013;8(1):e51622. doi:10.1371/journal.pone.0051622. Epub 2013 Jan 7. PubMed PMID: 23308101; PubMedCentral PMCID: PMC3538699.
Zobor D, Kohl S, Wissinger B, Zrenner E, Jägle H. Rod and cone function inpatients with KCNV2 retinopathy. PLoS One. 2012;7(10):e46762. doi:10.1371/journal.pone.0046762. Epub 2012 Oct 15. PubMed PMID: 23077521; PubMedCentral PMCID: PMC3471896.
Dominik Fischer M*, Zobor D*, Keliris GA, Shao Y, Seeliger MW, Haverkamp S,Jägle H, Logothetis NK, Smirnakis SM. Detailed functional and structuralcharacterization of a macular lesion in a rhesus macaque. Doc Ophthalmol. 2012Aug 26. [Epub ahead of print] PubMed PMID: 22923360.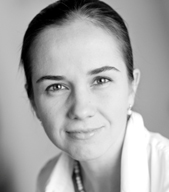 Ditta Zobor